The 2021 Subaru Love Promise Customer Commitment Award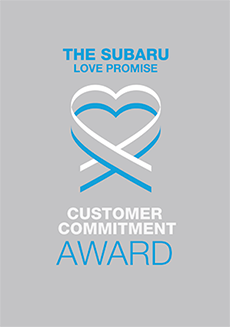 We've been nationally recognized for our dedication to our customers and the Subaru Love Promise.
We're honored to receive the 2021 Subaru Love Promise Customer Commitment Award. This award nationally recognizes Subaru retailers who demonstrate excellence in all areas of customer-focused performance. It highlights exceptional customer service that builds lifelong relationships with Subaru owners.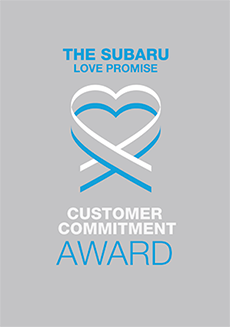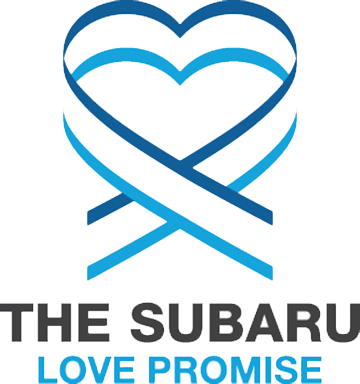 What is the Subaru Love Promise?
Subaru and our retailers believe in making the world a better place and the Subaru Love Promise is our vision of respecting all people. This is our commitment to show love and respect to our customers and to work to make a positive impact in the world.
How is Kramer Subaru dedicated locally to the Love Promise?
At Kramer Subaru, our Love Promise to our local community can be seen in our partnerships with local nonprofits and charities. We're grateful for the opportunity, not only to be a part of the Bismarck/Mandan community, but to serve it as well.
Furry Friends Rockin Rescue
Morton County Public Library
Sanford Health Foundation
Love Promise Stories from Kramer Subaru
Subaru and Kramer Subaru believe in making a positive impact on the communities in which we live and work. We uphold that belief through our Love Promise Community Commitment. Every month, we select inspiring stories from customers and partners from around our area who strive to support our collective commitment and feature them here
Blonco- love promise story - Melissa M
Love promise story from Furry Friends Rockin Rescue in ND. Blonco came to us with a broken bone on his back foot. He may have been caught in a trap - we are not sure. We fostered him from the beginning and every night for 5 weeks we changed his bandages every night so that they would stay dry. It was very painful and a few trips to the vet to make sure the sore healed along with the bone in his foot that was broke. He stayed with us until he found his forever home with a great couple who have another dog that is now his buddy. Below is the update from his new family. Before and current pics attached. Blonco's new family's story: "We were looking for an addition to our family when we found Blonco's photo on Furry Friends website. They were transparent he had a rough start and was recovering from surgery but the write up about his personality helped us know he was the perfect fit for us! There were some bumps in the road the first few weeks adjusting to his new home. However, we're over the moon with our new "fluff monster" (what we call our pups) and couldn't be more thankful Blonco's rocky road lead him to us!" Thank you Kramer Chevrolet Subaru in Bismarck/Mandan ND for helping the rescue animals!
---
Kramer Subaru BisBark 4K - Monica B
The Bismarck area Subaru location is always staying involved in the community. I worked with the Kramer Subaru team to put together the Kramer Subaru BisBark 4K. The event is part of the Bismarck Marathon, and without Kramer's financial and volunteer support it would not be possible. The people at Kramer Subaru were great to work with and they supported a great event in our community. They even let us come to their new location to film some marketing materials with our dog! All net proceeds from the Bismarck Marathon benefit our local community.
---
The Letter P - Terri W
All the things we think about that represent our mission here at Furry Friends Rockin' Rescue: Paws, Passionate, Purposeful, Positive, Proud, People... We started our organization in 2015 and ever since Subaru has stood beside us on our mission to rescue more Paws! Each year we average over 1500+ animals, dogs/cats mixed in are some rabbits, birds, lizards, guinea pigs. ND is heavily overpopulated with animals in need; many have been abandoned or neglected, subjects of abuse, or simply in a state that is unhealthy and overwhelming for current owners to care for. The team at Subaru, from the receptionists to marketing team, salesmen and women, the shop staff and beyond have all shown just how Passionate they are about their employment and the partnerships and relationships between themselves and the community members who also support our cause. Subaru has supported many of our events that are for a Purpose. From hosting on site microchip events, donation drives for the animals and families in need, adoption events and helping us spread educational bits on proper pet parenting and pet resources within the community. The store and staff have assisted us hands on with hosting the animals on site weekly, encouraging people to engage with those in need and to meet new faces and to "Adopt Local!" The demeanor of everyone at Subaru has always been supportive and Positive, "If there is a will, there IS a way" attitude. Which in rescue, means everything! Furry Friends Rockin' Rescue is entirely volunteer run organization and to know we can rely on a company like Subaru to support our state's animal welfare futures, makes us Proud to be partners and lucky to have this relationship where so many other companies hesitate to step up to the plate. Lastly, People, every time you walk into the doors of Subaru you are acknowledged. Greeted with a smile and recognized for being present. We have gotten several compliments for the number of events and quality of events we've been able to provide at the Subaru location. All of our volunteers have enjoyed being on site at the store location and we have really come to have great interpersonal relationships with the People who have chosen to work for Subaru and support this mission. The guests at the events hosted on site have all enjoyed the space provided and the friendliness of the Subaru team. The marketing team, the management staff all have gone to bat for our organization to help us continue to fundraise thru a variety of raffle events, drives and sponsorships. * The manager has become a personal friend of ours and has since adopted a dog my family and I had rescued from a field. The poor puppy was clearly ditched outside of town miles away from other houses and there was no sign of his ability to find his way to any one remotely close for help. Had it not been for a passerby en-route who spotted the dog. We scoured the fields for hours in the dark and finally came across this scared, sad set of eyes in the middle of a corn field. Which in ND can go for miles and miles with no trace of a homestead or shelter source. It was 13 degrees out that night, for certain that pup would have frozen to death which is all too common here. Once he was in our care and vetted and ready for adoption, Jason, the manager was more than patient and kind to slowly get to know this pup. Since adoption, this particular pup has had the most exceptional life with Jason and his family, spoiled but not too spoiled by our opinions and we are certain he will never know what loneliness or hunger is ever again. I firmly believe the staff at Subaru see and understand the positive impact our organization has had on the community if not their personal lives as well. It is a wonder to feel valued for what we do when we do this not for recognition but for the sake of supporting others who cannot otherwise support themselves. Subaru- we value your brand; we value your principles. We thank you for continuing to use your platform to help support causes that matter to us but also causes that may not matter to everyone else. Allowing your staff and team to choose who they get to support locally, is a rarity in the corporate realm. Keep #doinggoodthings Subaru <3.
---
Finding out what it takes to be a "Grown Up" - Shaneille U
Kupper Subaru is proud to sponsor ND Coalition's Real World Camp. Kids find out what it takes to be "Grown Up" first-hand look at life through hands-on break-out sessions and may even stroll through a "Real World" city featuring local businesses as a new person with a family, a job, and most importantly-- A BUDGET! Kupper Subaru is on site with providing payment options on a New and Used Subaru. Students make the decision on which payments fits their lifestyle, family needs and monthly budget.
---
A PAWesome time at Kupper Subaru's Howl-o-Ween - Shaneille U
Kupper Subaru hosted it's first ever Howl-o-Ween Trunk or Treat event Saturday, October 28th, 2018. In conjunction with Subaru's Loves Pet, Kupper Subaru invited pets (and their human families) into the dealership for a Halloween event! Both kids and pets scurried through the showroom bouncing from Subaru to Subaru to get their treats (both candy for humans and treats for dogs were provided). The dealership also provided appetizers and door prizes for attendees. Attendees were also encouraged to drop off canned food, dry food, toys and treats to be donated to Furry Friends Animal Rescue. We plan to make this an annual event and can't wait for another PAWesome time!
---
Spreading Hope To Sanford Hospital for 4th Year - Shannon B
On July 11, Kupper Subaru partnered with The Leukemia & Lymphoma Society (LLS) for the fourth consecutive year to spread love, hope and warmth to cancer patients at Sanford Hospital. LLS and Subaru delivered blankets, messages of hope and arts and crafts kits to patients receiving cancer treatment this summer.Bismarck native Kim Bloms represented LLS and Sanford by accepting a blanket on behalf of other blood cancer patients like herself. A handful of Sanford oncology nurses joined in on the fun alongside Subaru and LLS staff to help get the donated blankets and craft kits inside where they will be distributed to cancer patients this summer.Kim was diagnosed with acute myeloid leukemia in July 2016 at just 36 years old. She is now in remission and volunteers with The Leukemia & Lymphoma Society and currently chairs the LLS Advocacy Committee for North Dakota. "I came out stronger, and I want to continue paying forward that kindness," Bloms said. During her time in the hospital, a simple blanket reminded her she was not alone in her fight against. It kept her warm through each chemotherapy treatment and comforted her during nights in the hospital. LLS is proud to partner with Kupper Subaru for this incredible act of generosity for the fourth year in a row together. Thank you for supporting the Bismarck/Mandan cancer community in such a tangible way alongside LLS!
---